I like his problem-solving attitude.
That looks good Christof. Did you get the same data than Rod? He recently did a peak at 1000W, 140 RpM, 70N.m
Do you have a brushless FOC control ESC?I' I gave rod a little help on that some months ago. We use Vesc board that are really fine!
Unfortunately Christof is not part of the forum yet. You can ask him on twitter or youtube or drag him here.
I'LL mail him to invite him
All,
Thanks for the invite and the positive feedback! Planned on joining for a while - but when I am in "build mode" it's hard to get me out of the workshop
@Kitewinder: Yes I am using a VESC 4.12 (not the fancy V6 that Rod is using ;). I am controlling it with an Arduino and a PID library (adding this to the system was the main part of this weekends test) The controller works great thanks to Keith!
I am far away from Rod's kW. Here is why: I have a 190Kv BLDC generator that is not spinning fast enough with the 1:2.5 belt drive I had at hand. Somewhere between China and Spain is a box with a 45Kv motor and a new belt drive. With that I hope to get to the 350W that the rotor is designed to get @120RPM in 10m/s wind. More than happy to reach out to you once I have put it together to get some help!
The other important upgrade were the new connectors. I can now build longer Helices way more efficiently than before. The printer is glowing - making the 200 I need: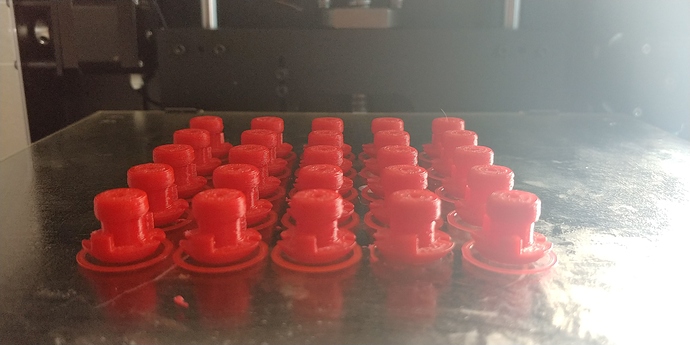 to build a 100ft version right after the holidays.
On a side note: I have never been gone
Just moving from the US to Spain with a family of 5 is not an easy project either. On the positive side now I have plenty of wind and space and do not have to worry about homeland security asking why I am flying strange objects close to Logan Airport
Enjoy!
/cb
Welcome!

Is that a Zortrax printer?
That's a Raise3d N1 Dual - "half price off because end of production" - printer. Upgraded to a Bondtech extruder because the out of the box one su…ed.
/cb
What for the PID? The Vesc has an FOC control mode for
Position control
Speed control
Current Control
Regenerative braking
I would guess that is enough to do anything needed. On kiwee we use FOC control with position control to reel in and regenerative braking for the power curves.
The rig looks really nice. Thanks for sharing