I had some nice conversations during AWEC, and also some of the talks got me thinking. I believe the "Daisy" windmill might be able to self-erect even without the lifter at the top. I am thinking some particular design may be necessary to achieve this, but in principle, the more advanced "Daisy" setups could already be self erecting without the lifter kite.
The important thing (sorry if I am stating things that are already obvious to you other guys) is that you have several rotating power generating wing layers, and these layers generate a wake. Because the rotating windmill is not pointing downwind, but rather at an angle upwards, the wake will not hit the next ring at the center of rotation. We can use this fact to make the upper wings in the next ring point more upwards. As they are seeing more wind energy, they will create more vertical lift compared to the lower part of the ring.
The explanation sucks, I have added a sketch to possibly make my point easier to understand.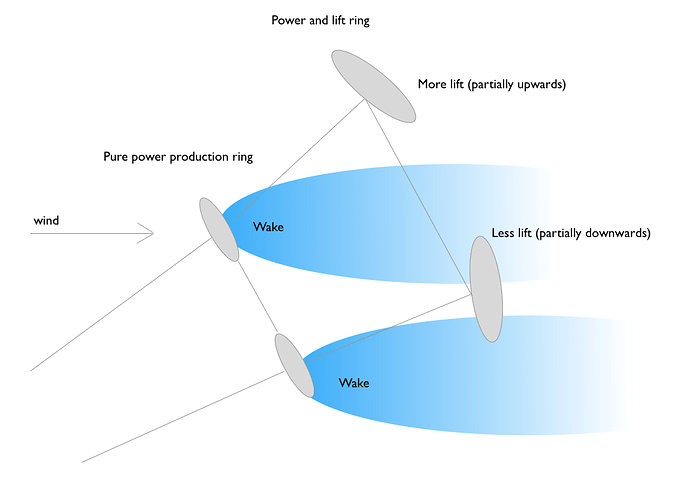 Another observation is that due to this, the tension at the lower half of the rotating torque transfer matter will experience maybe significantly less tension compared to the upper part. This may be a start of inducing oscillations to the system. Sorry