This analysis applies to systems like Daisy, Parotor, MAR3 and even parachute systems where the axis of the turbines or sails are parallel with the tether. With these systems, increase in tether angle results in power losses due to the cosine cubed effect. In contrast, higher altitudes cause an increase in wind velocity with an exponential increase in power. For this analysis I have assumed an aggressive wind profile where wind velocity varies with height by the 0.2 power. Wind velocities are shown on the x-axis of the graph. As expected, the biggest gain in performance factor (power) is achieved at minimum tether angle and maximum altitude. The problem is that tether length is unacceptable at these conditions.
This analysis does not apply to systems with multiple coaxial turbines such as Skyserpent and multiple ring Daisys where masking effects are significant, especially at low tether angles.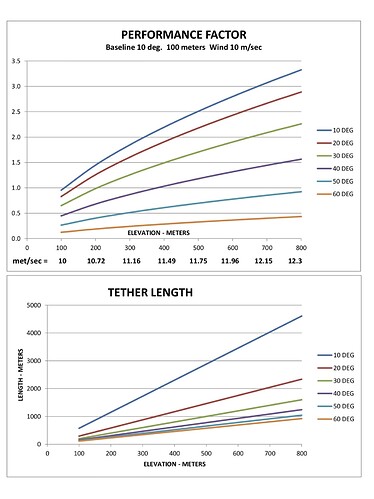 The above analysis confirms my opinion that the Kitewinder system is superior to the other systems. The turbine is oriented to face the wind and so there are no cosine cubed losses and the device can operate at much higher altitudes with a relatively short tether (cable drive). The only penalty is the requirement of a larger lifter kite to maintain a higher tether angle. For example, if we assume a tether angle of 45 deg for Kitewinder then the performance factor (power increase) will be 3.48 at 800 meters elevation and the tether length will be 1131 meters. The kiteline angle of the lifter kite must be 60-65 deg. in this case.