Discussion of direct replacement of Coal and reuse of Coal Plants with Kite Power.
Current Poster Format Concept Draft-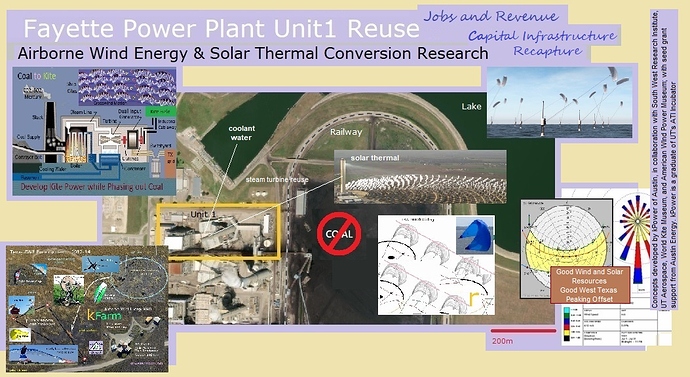 Fayette Coal Plant is owned by Austin, Texas, and the Lower Colorado River Authority. Unit1 is slated for shutdown within two or three years, followed by Units 2-3. The plant is ideal for industrial AWE R&D, with thousands of acres of open land and lake. The wind resource is good, with coastal sea-breeze during peak electrical demand hours and seasons.
The large lake is not popular for recreation in its rural location, so it could be an ideal "kiddie-pool" for developing offshore kite technology. There is even a circular railroad track with a 500m radius suited to test "carousel" operation. Solar thermal may leverage existing steam-turbine. Along with biomass production, solar array physical design might co-exist with kites in shared or side-by-side placement.
Review Note- kPower worked out that the exact mechanical basis to convert a legacy power plant to kite power is a rope-drive to an overrunning clutch on the legacy generator's shaft. Large generators already have such a clutch for their starting motors, to spin-up to working-speed from stand-still. Some generators have shaft space available to add clutching. A separate added gang-shaft can aggregate multi-clutched inputs. Kite and rope-drive inputs must closely match load velocity, by standard methods known to kite and mechanical engineering,
Current news: Targeted funding specifically to phase out coal, exemplifies support available to study and implement creative action-
In process: Billions in the R&D pipeline to change electrical energy sourcing to renewables-
From internal email of a Fayette Reuse Working group; Mike Clifford in an industrial engineer, and the link he shares has nice detail about Germany's "Coal Exit", and the Fraunhofer Society's active role in converting Coal plants to storage and renewables. FS has pioneering relations in AWE as well, going back a decade or so.
======= included messages =======
Hi Mike,
It's maybe a great match. The (Fayette) coal yard is already grey-field and a salt-based storage operation therefore would not be impacting existing habitat or clean hydrology. Remediating ground water might somehow leverage the same pumping and processing infrastructure as the salt.
This idea you bring deserves full study. Many options.
dave
---
On Jul 3, 2019 8:35 AM, Mike Clifford wrote:
Hi Dave, you've probably already seen this article from May about German efforts in salt batteries, but just in case you haven't:

https://energytransition.org/2019/05/coal-plants-into-renewable-energy-storage-sites/

I'm not very familiar with this technology, so I'm doing a little research to see how well it would apply for Fayette.

Mike
A bit of an update about the Fayette Coal Plant shut-down: Local Austin governmental bodies are lining up to declare a Climate Emergency. The Electric Commission has already unanimously ruled so.
The Fayette Reuse Plan team is growing, meeting monthly and using email to work on the plan, which a local leader has dubbed "City of Energy". The "Greens"; the 350 movement, EarthFirst, Sierra Club, and so forth, all part of the mix. The dying coal interests looking to pivot to survive.
kPower is bringing Indian AWE and UTexas together, and various other global low-complexity AWE players. Momentum is tangible.
This is how Austin rolls; expect Texas as whole to lag…