Continuing the discussion from Low radius loop:
The effect of gravity slowdown or speedup caused by the mass of the wing during loop. The change in power is nominally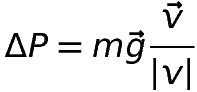 https://forum.awesystems.info/uploads/default/original/1X/d6d834c7e4134e19c6b791938b31e276aafd63a5.png
Where
m - kite mass
g - gravitational acceleration 9.81 m/s/s pointing down
v - speed vector of kite motion
This is if we assume that speed of the kite does not change during the loop.
Looking at drag mode vs yoyo power production, the effect of force applied as a braking force (going upwards) and the effect of reeling out for yoyo power production is much the same thing.
Accounting for a speed loss during loop, the effect of gravity slowdown has a positive feedback also reducing the kite speed and thus the power generated by the wing.
Gravity speedup is less of a positive speedup compare to slowdown, as increasing the speed will increase drag quite quickly thus making the effect less relevant.