I'd like to see a kite driving an intermediary generation system in an offshore environment.
We have flygen well described
We also have rope drive and TRPT and yo-yo groundgen well described
There are system designs where generation occurs somewhere in the middle
So by intermediary system I'm referring to a system like this…
At the top in this drawing is a kite (black) on a reeled out fixed length line (yellow) pulling figure 8's
(dotted black flight path)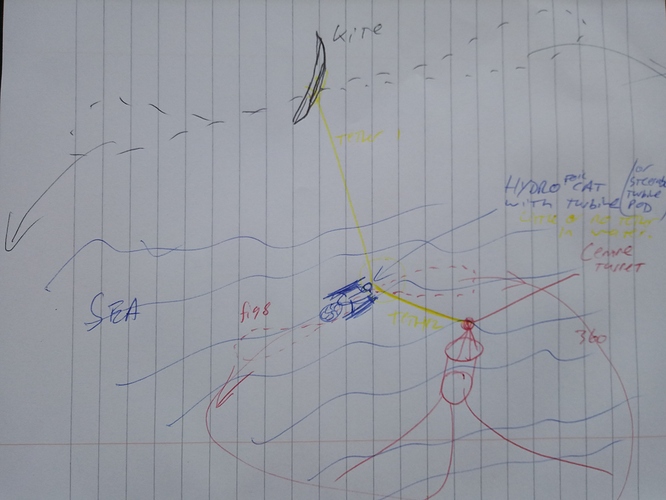 Turbine (blue) ~0.3 way along a kite tether from a floating anchor (red)
This could be network kite or single kite.
The turbine is not airborne.
Instead the turbine is being dragged through water.
Turbine being the blue bit in the water in the picture. Yellow is the line from anchor spar buoy to turbine to kite.
The turbine attitude to water is supported by a glide controlling frame (Like an otter-board/catamaran hydrofoil/submarine doodah)
Topside of the turbine support is tether handling to keep the kite tether clear of the water.
So the kite can pull 8's all day long no matter the wind direction.
& the pulled pod/turbine-sub can follow with 8's tacked through the water.
This configuration could be steered to lower the variation of phase power output of yoyo.
Could have a very efficient turbine and generator size from water speed and density.
Could have very lightweight airborne components (Likely soft too) which could be recovered to the water.
Who's up for it?