Congratulations John for this great new.
Please @AweEnthusiast, can you present your company and the purposes? Thanks.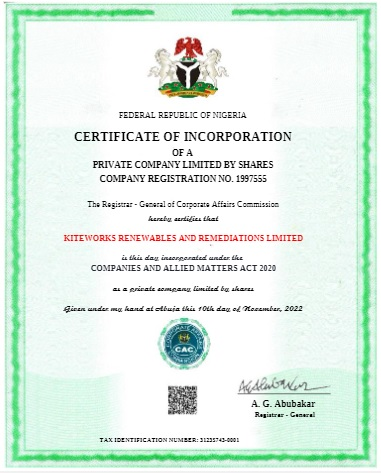 Thanks @PierreB.
Relevant excerpts below:
MEMORANDUM OF ASSOCIATION OF KITEWORKS RENEWABLES AND REMEDIATIONS LIMITED
The name of the Company is: KITEWORKS RENEWABLES AND REMEDIATIONS LIMITED

The Registered office of the Company will be situated in Nigeria.

The objects for which the Company is established are:
A. To Carry On Business Of Production And Sales Of Different Types And Sizes Of Kites, Kiting Materials, Kite-powered Equipment, And Machinery
B. Hybridization Of Agricultural Implements And Other types of machinery For Kite Powered Operations
@AweEnthusiast Hello John,
I am pleased that the birth of your company has been welcomed by Carin Eve COLE – WINDSLED Science & Technology Projects Development
https://greenland.net/windsled/contact/
Perhaps a collaboration could lead to the emergence of a new family of AWES with WindSled and also some other kite experts, therefore making a fresh start.
Thanks, @Pierreb.
Indeed Carin is known and we are in partnership at a global scale with others.
Further lifts.