Several kite and AWES designs benefit from the stability of wide spread anchors.
To cope with changes in wind direction these designs need to either adapt their anchor position or have isotropic operation capability
I was fascinated by the performance of the wee robot in this post
A field robot which can move anchors,
Or just take a spool from the top of one anchor post to the next one
Could be very handy for live reconfiguration of spread anchor designs which need to minimize their land use impact.
Take for example this old design based on a concept originally by @kitefreak

A kite is held with pulleys, at 2 sides, across the wind.
1 pulley with a generator at 1 end.
3 pulleys with a steering bar at the other end.
The main line is a loop.
The 2 steering lines go from the kite through the bar pulleys half way along the ground.
OK fatal flaw in this drawing is it's going to burn through pulleys very quickly but it could be adapted.
And yes tension adjusters would be better than a bar. This was just a basic as it gets demo drawing.
The point here is the control end could be picked up and moved.
Being able to live relocate anchors
This could avoids the need for any design to include a rail system to maintain wind alignment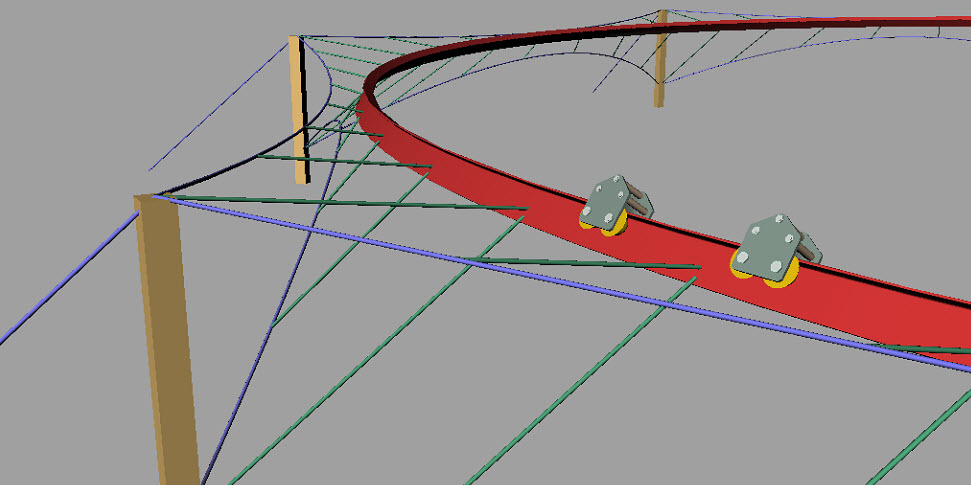 This goes for my own designs too
Daisy Kite Turbines have movable back-line anchors.
We tested the backline on a horsetrack pully arrangement to cope with limited wind direction changes
Relocating one or even a set of back-lines anchors and backline lengths significantly changes what you can do with a kite turbine arrangement.
Similarly where a design is intended to reciprocally pump and dump lift at its feet
e.g. a swaying design like this