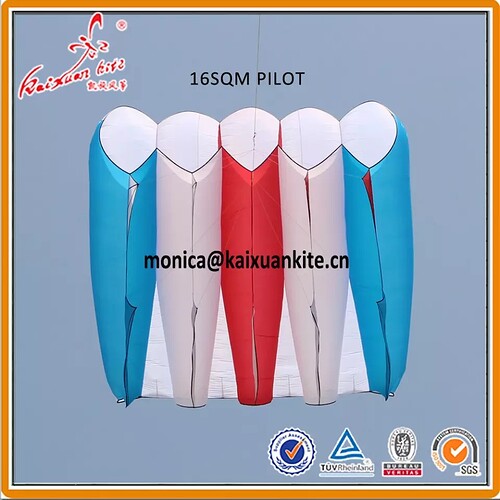 Just some quick feedback on this kite. We flew this in winds ranging from 7-12 m/s. The kite would pull around peak 150 kg avg 50 kg at these winds.
The kite flies well and seems well built. The bridle does not have a lot of lines and thus is not very prone to tangles.
It came with a stubby «tail» maybe 2.5 m wide and 1 m long.
The kite in flight flies well but also exhibits some less desirable behavior. The inflated ribs do sometimes collapse and may be slow to refill if the flight is to jerky. The kite flies ok even with collapsed ribs though.
At the top end of the wind we flew in, the kite would fly to either side and needed active line control to stay at zenith. So as is, I would not recommend this kite for >9 m/s. I hope though that adding a tail will make it fly better in higher winds. Maybe I will report back when/if I get there.
The kite is reasonably priced and I think Weifang Kaixuan provide good service. I was able to specify which colors to use which was a nice touch. I would recommend the kite for general use. 6/10 points.