Hi
I want to share an idea for a sailboat. It is a variation of "a sailboat with a windmill" except I think the windmill maybe pulls better downwind, and also the moment of the windmill may be prohibitive for a boat.
So I was leaning towards some kind of TRPT AWE design but that is rather complicated to build. Then it occured to me that we could use the same principles as AWE [pitch control to stay airborne, less moment on the hull as the rig is tethered not on a mast], but make it solid like a windmill. A swashplate is a ready made component that could make this RC controllable in small scale (eg 1 meter diameter blades, 2 m long hull).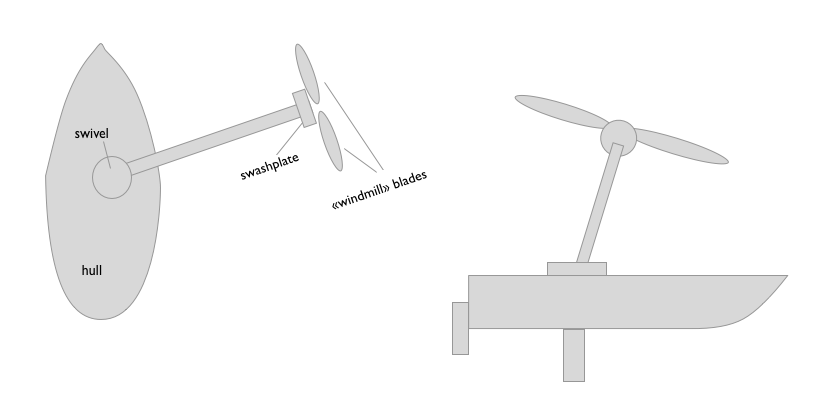 There are of course many variations:
power generation and electric propulsion using a propeller subsea
controlling the angle of the "tower" by servos or free floating
a hinge at the top of the tower, servo controlled or not
the «tower» may elongate during sailing
I guess as a starting point I would consider the "stupid" version where the tower rotates freely, maybe only with the option of changing the elevation angle now and then, maybe by a rope and cleat.
Maybe eventually put it on foils and give Vestas/Scirocco a run for their money as the fastest sailer ever
I do see some immediate concerning properties, namely cos^2 losses when taking the windmill blades at an angle to apparent winds…