So I have been thinking about my previous thread about using the Excalibur to build an initial version of "The Pyramid"
Cost quickly sails up as an issue. In particular the cost of the 4 kW generator adds up a lot costing in excess of 1000€. So I was thinking, could it be done cheaper and simpler to achieve the same goals of the prototype?
The most obvious place to start is by choosing a smaller kite/aircraft. A quick internet search gives me something like this.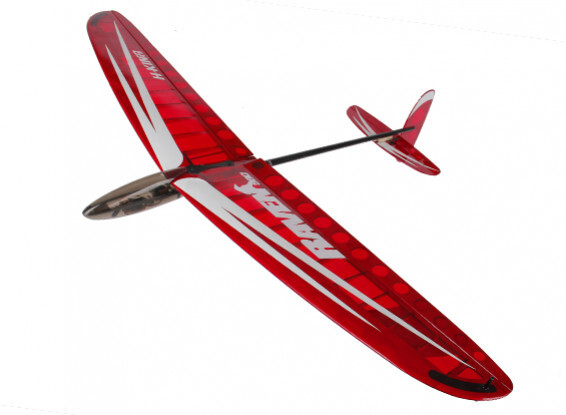 The small DLG glider has a wingspan of 990 mm vs 1600 mm of the raven. This should reduce the wing area (and size) by an approximate factor of 1.6x.
A problem with such a wing is that you don't have ailerons, so we would have to assume for now that the dihedral and rudder would give sufficient roll control for the prototype to work. Edit: actually the raven is rudderless, the problem is similar, though maybe better for this purpose
The lower wingspan would also scale down the cartwheel by 1.6x.
We run the scaled down version through TRPTSim
julia> raven = config(mass = 0.160+0.100
         , wing_area = 0.117
         , c_d_fun_coeffs = [0.025, 0.05]
         , design_c_l = 1.0
         , induction_model = :none
         , shaft_radius0 = 1.5
         , shaft_radius1 = 4.4
         , shaft_length = 12.5
         , shaft_diameter = 0.00075
         , aspect_ratio = 8.3)

For a "The Pyramid" build with three of these we get the following simulated power curve
I also received some other advice during discussions at AWEC. AWE builds scale to bigger wind speeds with scale. In particular square-cube scaling (wing area vs mass) lends to this, but also other effects maybe. A scaled down build will never fully represent a really large one. The goal of an initial build like this may be to see if the prototype works at all, and to verify the simulation tool.
This is why at this stage, there does not seem to be really good arguments to run the prototype rig at 12 m/s, creating so high tension that the wings with minimal reinforcement may even break. So lets instead say that we would limit the prototype to 6 m/s maximum wind speed. As the prototype should ideally start to run around 3 m/s windspeed due to its small scale, there should be plenty of wind range to play with. In any case, initial tests may probably be better done indoor or a zero wind day using the generator as a motor. The prototype could be made to run in more winds by limiting \Lambda [moment per tension and looping radius].
For running at 6 m/s, we should have a rotational speed of 80 RPM with a shaft moment of slightly more than 50 Nm, giving an output of a little less than 500 W.
This would save 90€ off the kites (130€ vs 160€ per kite, not much) but the generator/motor could cost only 150 € vs 500 € and the gearbox maybe 75€ vs 500€.
There are many other costs, but bringing the initial cost down would always lower the barriers of entry.
Price of kites plus generator thus would end up around €615. Of course there would be many additional costs for tether, electronics, tools, cartwheel, tilting mechanism, base, tether reeling etc. And, not to mention spare kites.
Using something even smaller, like this one would bring the power further down from 500 W to 300 W