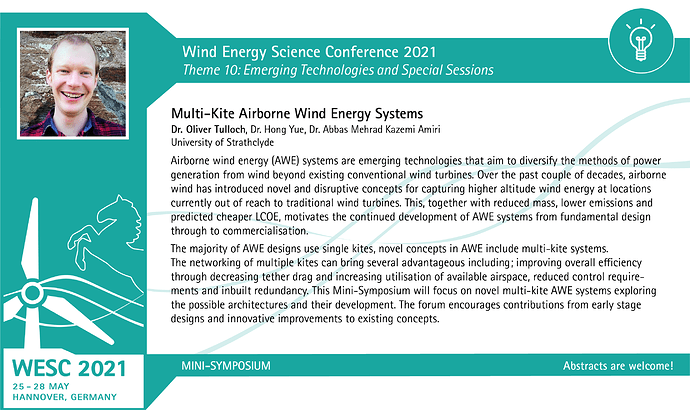 I've used an OCR on the image to grab the following text
This is always a mistake and should be funny…
Airborne wind energy (AWE) systems are emerging technologies that aim to diversify the methods of power generation from wind beyond existing conventional wind turbines. Over the past couple of decades, airborne wind has introduced novel and disruptive concepts for capturing higher altitude wind energy at locations currently out of reach to traditional wind turbines. This, together with reduced mass, lower emissions and predicted cheaper LCOE, motivates the continued development of AWE systems from fundamental design through to commercialisation.
The majority of AWE designs use single kites, novel concepts in AWE include multi-kite systems. The networking of multiple kites can bring several advantageous including; improving overall efficiency through decreasing tether drag and increasing utilisation of available airspace, reduced control requirements and inbuilt redundancy. This Mini-Symposium will focus on novel multi-kite AWE systems exploring the possible architectures and their development. The forum encourages contributions from early stage designs and innovative improvements to existing concepts.
So what are you waiting for get preparing …
Submission deadline 17th Jan
the summary of it, which can also be found on the WESC website under theme 10