The following links describe a method for lighter and larger blades working like palm trees in order to be resilient from high winds.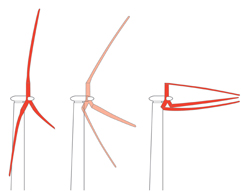 Perhaps some applications in AWES could be imagined, knowing the global loads issue could be mitigated with appropriate bridling, starting with a central line for the hub. Then several options would include torque transfer TRPT rotor in @Rodread's way, or yo-yo mode (recovery phase by the third position). Perhaps keeping lift (without lifter kite) would be possible with a cyclically controlled bridling.
This topic could also be connected to Info on different methods for making rigid propellers, wind turbine blades, wings and similar.