Two degrees of freedom.
The part attached to the hull seems to be generatively designed and 3D printed.
Everything looks a bit oversized.
Not sure why this part looks as it does: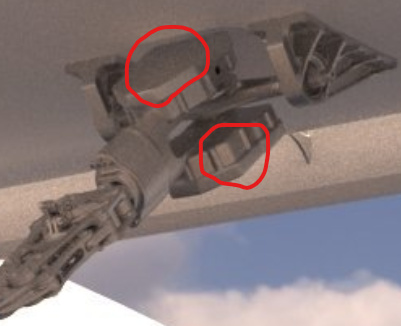 … or why the rope clamp(?) is so large.
Doesn't seem like aerodynamics was much of a concern.
Could it be a sensor housing? It looks a bit large and draggy to me… Makes me think they know more than me about attaching the tether. This I do know: attaching the tether is not straightforward.
An assessment (average wind speed 10 m/s as mentioned page 17) is on the figures 6, 7 page 18, 8, specifications page 31 (span 5.5 m, wing area 3 m²) from https://www.researchgate.net/publication/331157437_Performance_assessment_of_a_rigid_wing_Airborne_Wind_Energy_pumping_system.