On three occasions I have suggested this mode of operation without any comment from the group.
With my concept of a restrained lifter kite I suggested that the lengths of the diagonal restraints be varied to move the kite across the wind window to generate crosswind action. This is not the same as performing lazy eights or circles. The kite remains vertical at all times and there is no need for a kite steering unit to control the movement. The speed of the crosswind movement can be varied based on wind conditions. If the lifter kite supports a turbine system which transfers power to the ground by means of a cable drive, then there is less chance of the cable drive twisting due to the crosswind action.
Secondly, I suggested generating crosswind action with the tower supported Daisy system. This is achieved by rocking the tower from side to side. This crosswind system is not as effective as others, since there is no way to orient the rotors to face the effective wind direction.
Thirdly, I suggest an alternate to the Minesto tidal energy system. Drag lines attached to winches on the banks of a river can greatly increase the effective tidal velocity. By using two drag lines on each side we can orient the turbines to face the effective flow direction.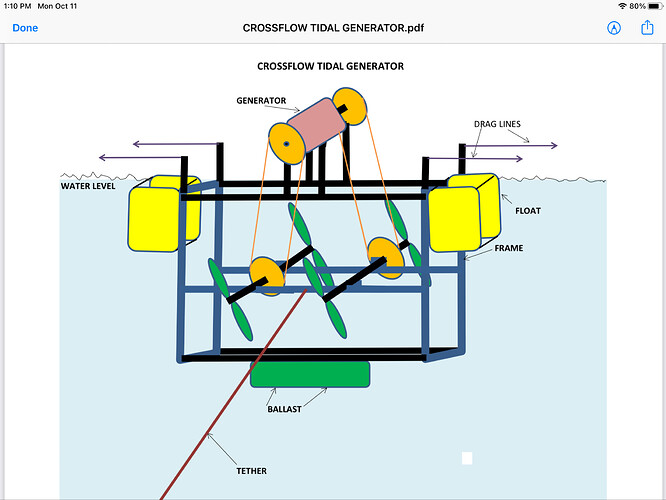 In all three systems I would assume that the amount of energy required for mechanical crosswind action is much less than the increase in power obtained. My reason for this is we are dragging the kite or turbine across the wind window and not working against the wind. It is interesting that Payne's patent (Fig. 5) proposes just the opposite where the PTO is on the crosswind cable.