Just wanted to share a reeling power transmission for hovering [snickers] AWE designs.
The new thing is instead of an endless loop, you have two reels on the ground. You will need to alternate now and then, but the benefit is that the length of the reeled out tether can be adjusted on the fly, for easier launch and landing.
With some gearing, the generator can surely be shared between the two drums.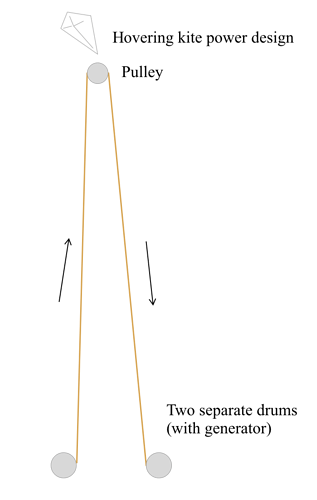 Edit: I realize this was not very clear. The aim is to collect energy in the airborne pulley eg by a gearbox connecting the rotating blade assembly to the pulley wheel. Then reel the tether back and forth, collecting the energy at the ground. Compared to a reel with a looping tether, the operation is the same, except the loop runs forever while the dual winc must alternate the direction. Also, new and improved drawing