I was amazed to read this article about one more "Professor Crackpot" proposed "project" in Interesting Engineering magazine:
Due to global warming derangement syndrome and zero knowledge of wind energy, this guy is "planning" to build a 5 MW floating offshore Savonius 100%+ solidity drag machine - uh huh - cuz he really knows what he is talking about, so he got a big article and we should pay attention to what he says because he knows nothing, believes anything, and repeats a lot of well-worn lies:
LINK: We need to rethink solar and wind power. Here's why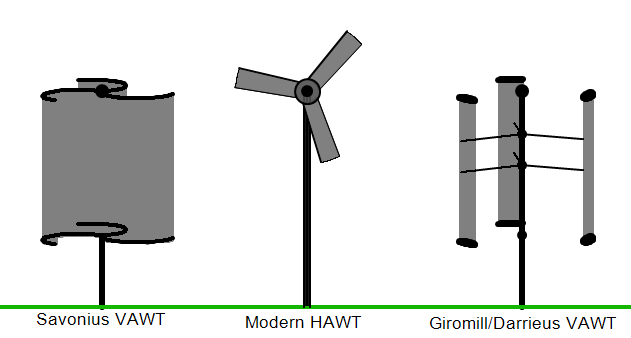 A GIF depicting drag-based wind turbines versus conventional "lift" ones. Source: Ssgxnh / Wikimedia
Drag-based wind turbine systems could circumvent intermittency issues
Cann's firm broke with convention on wind technology, and moved away from the traditional three-blade system, opting instead for a drag-based system. "If you've ever seen windmill-based systems like those used in the 1930s that pump water out of the ground — that's called a drag-based design," explains Cann. And this design had several advantages. Low cost was primary — "the cost of raw materials is incredibly low," explains Cann. But the higher utilization rates that come from floating platforms were equally important. These go to "60 or 70 percent," says Cann.
But most crucially is the way drag-based design circumvents intermittency issues: "It doesn't rely on high wind speed," says Cann. "The performance is lower relative for to three-blade systems, and but drag based wind turbines can operate from lower for wind speed."
(OK sounds pretty whacky to me - and where is the proof-reader??? - Doug Selsam)
But none of this will have a lasting effect if it can't be scaled. Luckily, it can. "The drag-based three-blade system can definitely be scaled," Cann tells me. "Right now, there is a 1-MW turbine system being built, and we're using that to validate the output," he adds, referencing his firm's efforts to develop a scalable version of floating drag-based wind turbines. "Then we'll build a 5-MW version, which will be put on a floating platform."
"The 5-MW machine will be a default mass-producible unit that will be on a floating platform, and those floating platform machines can go up to 100 MW. Crucially, each floating platform also doubles as an energy storage system," says Cann. And this system takes wind power beyond electricity and conventional power grids — tapping into the wider infrastructure where it hits us closest.