A general lack of transmitted pulling force occurs by using two anchored tethers simultaneously, as for figure 5, and also for figure 1 a and figure 1 b, leading to a partial cancellation of the tangential force that rotates the system.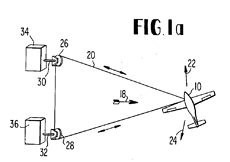 It is the reason why I studied a lever transmission when the tether is perpendicular to the lever in order to maximize the tangential force that rotates the lever. See the video below where the two tethers work alternatively.
In fact the same power transmission would be obtained by using two coupled yoyo rigs.
In some way that can be correct, but the problem is that the energy is not taken on the wing but on the ground, with the lack of useful transmitted force I mentioned.
The two videos that I juxtaposed in a previous post only confirm visually the analyzes that I provided during my last messages.
As conclusion the systems represented on the figures 5, 1 a and 1 b are less efficient as the yoyo mode.