I think so.
As shown on the sketch, the turbines rotate around a ring which is connected to a support that surrounds the tether and squeezes it with jaws. So the turbines do not rotate directly around the tether which is not their axis as the turbines are not tilted.
Units are in contact only through their respective parts surrounding the tether.
The turbines face the wind direction collectively by the ground station being on a swivel which rotates according to wind direction.
Yes. I think all elements should be stacked toward the tether end before and after operation.
It is not easy to implement several rope-drive systems by using the same tether.
As shown on the sketch the rings would allow the implementation of high rpm and density generators like on High Speed Motors, Electric Generators, Permanent Magnet Motor Generator, Magnetic Permanent, High-Speed Motor, High Performance Motors, Permanent Magnet Bearings, Magnaforce | Calnetix Technologies
High Power Density Motor Performance

For applications where light weight is of utmost importance, such as in aerospace and motorsports, Calnetix's high-speed motors and generators are designed to provide maximum power density while maintaining high operating efficiency and good thermal performance consistent with design requirements. An example of a power dense machine that we have designed and manufactured is rated at 100 kW and weighs 7.7 kg in a 2.3-liter volume, which is equivalent to a machine power density of 13 kW/kg and 43 kW/liter.
I put again the sketch: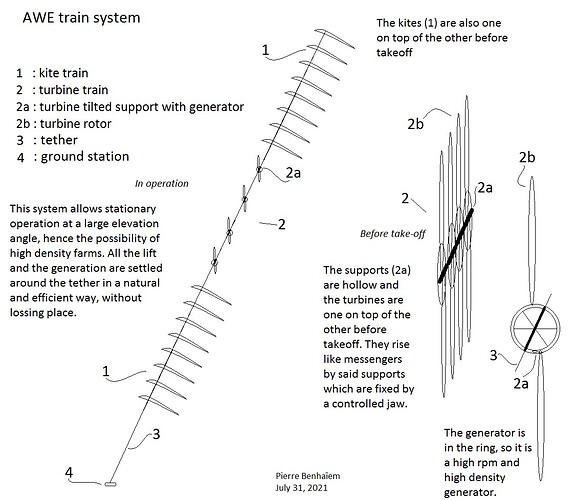 The real problem I see is the difficulty of control of both turbines and lifting kites, particularly with stacked soft kites. Trains of semi-rigid kites are usual, but rigid kites become too heavy when the system scales up. Moreover the AWE train system uses far more material than a crosswind soft kite for reeling (yo-yo) mode as an example.
So I mention it for documentary purposes only.