Two papers nearly 10 years apart publish test curves, the first for flexible wings, the second also but on a larger scale (Figure 15), also publishing for a rigid wing (Figure 18):
Development and validation of a real time pumping kite model (Ruppert, M.B., 2012, Table 8 page 44)
Pre-print on:
Concerning flexible kites:
On the first paper: Table 8 page 44, dataset 5: Mutiny (25 m² kite, see page 8), 8 m/s wind speed, 5.19 kW average power, 14.1 kW average generation phase.
On the second paper: Figure 15 (average power 92 kW, with peaks of 300-400 kW.
My observation: on Table 8 page 44, dataset 5 the average cycle power / average generation phase ratio seems to be roughly the same as said ratio deduced from Figure 15.
For both papers, one can see that losses during reel-in phase are important due to its duration and power consumption. As a result, the average power is low (1/2 or less) compared to the power during reel-out phase.
In fact the kite is not fully depowered and generates a significant tension.
Perhaps a mean to shorten reel-in duration and to more fully depower the kite would be using the principle of 3 line kite, the 3rd line being a depower line (video below, 1:10):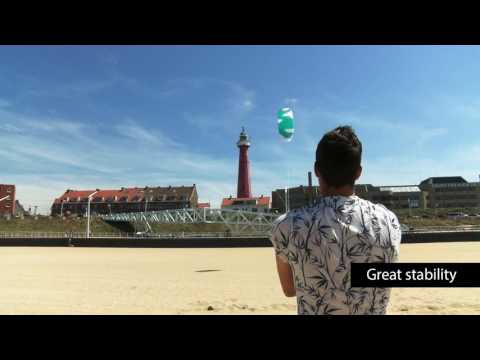 Unfortunately the kite falls like a rag, being difficult to control for an automated system.
So maybe some means could be used to allow a control a minima, such like a central bar or inflatable beam, preventing the kite from closing completely, coming back like a flag (second sketch):
Concerning rigid kites:
https://www.ampyxpower.com/technology/
After this reel-out phase during which electricity is generated, the wing glides back towards the generator and the process is repeated.
I have a toy: a plane flies like a kite, then when you release the rope, it comes loose and flies like a glider. I think that for a system at scale the control is not easy. And from the figure 18 (second paper) I guess that the use as a glider was likely not be made, but this is only a guess. The duration of reel-in phase is relatively far shorten than for a flexible kite, but the energy consumption is far higher.
I reput the link (see from 3:07 : comparison between reeling 3 m² plane (2.5% of potential, huge difference between average power and maximum power per cycle) and fly-gen 4 m² (25% of potential, so 10 times more)):
So, as a temporary conclusion, some structural elements could be added to a flexible kite, accompanied by an adapted flight control, while for a rigid wing it is only an affair of (difficult) flight control.