This analysis is for a Kitewinder style system where the turbines are oriented to face the wind. This analysis neglects the weight of the tethers, turbines, frame and transmission which are relatively small compared to turbine thrust and kite lifting force. The analysis shows that lower lifter loads are required for high lifter kite line angles. Unfortunately high kite angles reduces the kites lifting force so the kite size must be increased to account for this.
The analysis shows that larger ground tether angles will result in higher lifting loads and that ground tether angles above 30 deg will result in unacceptably large kite areas. In all cases, when the kite tether angle approaches the ground tether angle both the required kite tether force and the ground tether force become extremely large.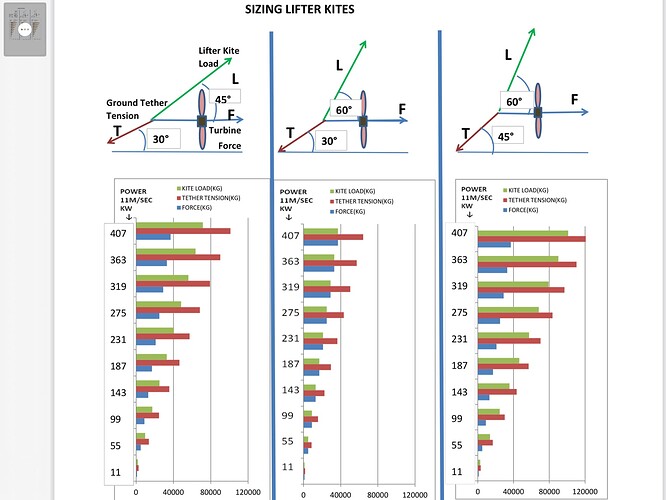 I have collected empirical data on tether tension as a function of kite area and wind speed. Unfortunately most of the data does not reveal the tether angle. We can assume that most lifter kites operate at 45-50 deg tether angle. If we assume that the tether tension varies with the square of the cosine of the kite tether angle, then the available tether force will be reduced by this factor as we go from 45 deg to 60 deg. ie cos260/cos245=0.5. The table below shows that when we increase the kiteline angle from 45 deg to 60 deg then using the cos2 rule the required kite area only increases by 3%. This is because lower required lifting forces due to high lifting angles counterbalances lower lifting forces caused by cos2 .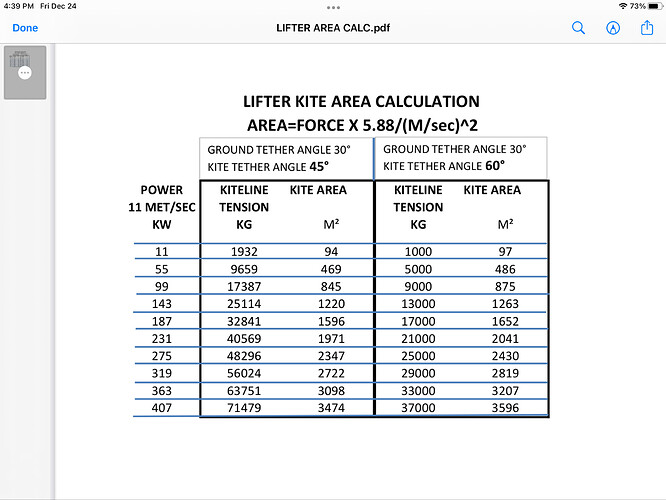 By playing around with the numbers, I determined that for a 30 deg ground tether angle the optimum kiteline angle is approximately 52 deg. This angle will require the minimum kite area. Increasing the ground tether angle will result in larger kite areas regardless of kiteline angle.
Analysis for Daisy, Superturbine(R), and MAR1 is more complicated since part of the lifting force is supplied by the angled turbines at the expense of power output.