There are several points. My blades are old and my first intent was to build rotors in Darrieus type.
Then I tried to make two-bladed rotors, without aiming a careful building, using my profiles and some non-adapted material I had, without precise purpose.
So for the two rotors I quickly realized, the profile is Naca 12, which a symmetrical profile that is not really suitable for an autogyro rotor.
The pitch of the small blades (1 m diameter rotor) is about 0°, but a blade is some millimeters higher than the other and with an offset of few centimeters.
For the big rotor (diameter 2.2 m) the support is not precise enough, and the pitch can be different after years.
The pitch of blades for model autogyro can be negative: -1° or -2°.
The pitch of the blades of the black rotor I bought with the complete gyrokite is 0°, the blades having non symmetrical profiles.
Now I would want light rotors producing lift (as for autogyro rotors) while they start-up easily (unlike autogyro rotors). A 1-2 m diameter would allow a better and lighter realization as the rotor would not be full (as for a 8.4 m diameter autogyro rotor). Negative pitch (-1° or -2°) is used to facilitate start-up for some small models, but I think it is not enough for the use I intend, in reeling mode.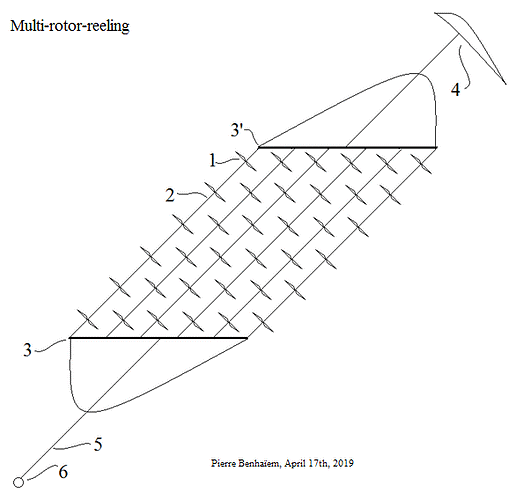 The video below provides some explains for starting autogyro rotors: