60 Terawatt Unicorn- Upper Wind and Polymer Kite Networks (substack.com)
Our entire civilization currently only draws ~20TW, but there is far power over our heads in the form of Upper Wind. Power kite networks accessing this power will usher in a new era of energy superabundance. The revolution has begun.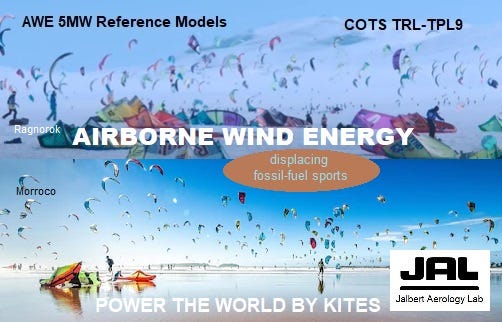 Saturation wind power potential and its implications for wind energy
Mark Z. Jacobson, Cristina L. Archer, 2012
"Total extractable power in the wind at all altitudes , estimated broadly as 450–3,800 TW "
201208993 15679…15684 (stanford.edu)
Dutch Astronaut, Dr Wubbo Ockels: "Extend your hand above the horizon; the space behind your hand could power all of Europe".
Another view of the astounding power density-
10km crosswind x 10km high x 10kW = 1TW
============
Future Global Energy Prosperity: The Terawatt Challenge
Richard E. Smalley 2004
Materials Research Society
"For accomplishing our energy goals, what we need to do is to find the "new oil"—a basis for energy prosperity in the 21st century that is as enabling as oil and gas have been for the past century. Innovations and advances in materials science (will) transform our vision of plentiful, low-cost energy into reality…developing new technologies…in the brave new energy era…everybody gets to play."
============
"The Carbon Capture Utilization and Storage (CCUS) industry has been looking for a cost-effective solution for a while. Some believe that turning carbon dioxide waste into polymers holds lots of promise."
Plastics From Carbon Emissions and Potential Carbon Credits
Common polymer precursor: pure vodka-
"UHMWPE is odorless, tasteless, and nontoxic…strength-to-weight ratios eight times that of high-strength steels"
Ultra-high-molecular-weight polyethylene - Wikipedia