Crosswind kites are massively studied because they are very efficient in regard to the kite area.
But as any secondary use is at least difficult under a one kilometer tether going fast with high tension and a heavy kite in the end, as a kite-farm of crosswind kites requires spacing of unities in order to avoid mess, tangle and collisions, the power to space use ratio can be very low.
Here is an attachment of a blue sketch of "Land and Space used", extract from the page 59 of http://www.awec2013.de/pdfs/AWEC_2013_BoA.pdf. The cylindrical shape of this sketch looks like
the Kitemill's "Permanent permission" drawing which is also attached, being above the blue sketch, and extracted from Thomas Harklau's presentation for Kitemill, 11' after the beginning:
https://collegerama.tudelft.nl/Mediasite/Play/6ef7e15c6c0c418bb24ca8f6b3d79c0c1d.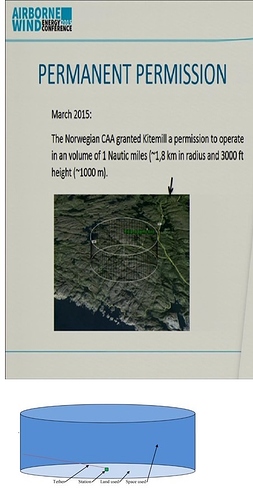 .
Please @tallakt could you inform us for the size, the power, the tether length of the prototype(s) that Kitemill intended to make fly in this 1.8 km radius and 1 km height zone?
Another sketch to complete: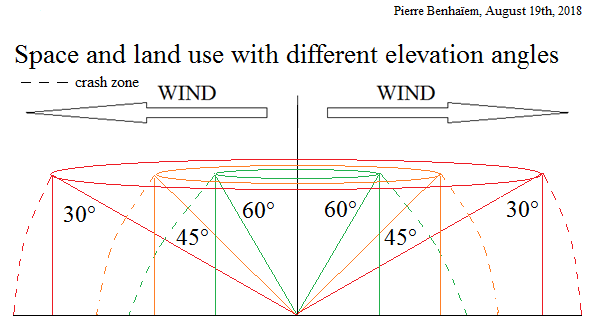 So some less efficient AWES per kite area can be far more efficient per power/space use ratio which is a far significant information, at least for me.